Customize your bakery menus with online templates
Designing dessert bakery menus and printing or sharing them has never been easier. With our professional bakery menu editor, you can create beautiful bakery menu designs in just a few clicks, which you can share on social media or share your menu designs via email.
Want to design an eye-catching and personalized bakery menu? It's very simple, explore our hundreds of bakery menu templates online, open the template that best suits your business, and customize your design by changing the background, fonts and colors, you can easily design a beautiful bakery menu without any professional design skills.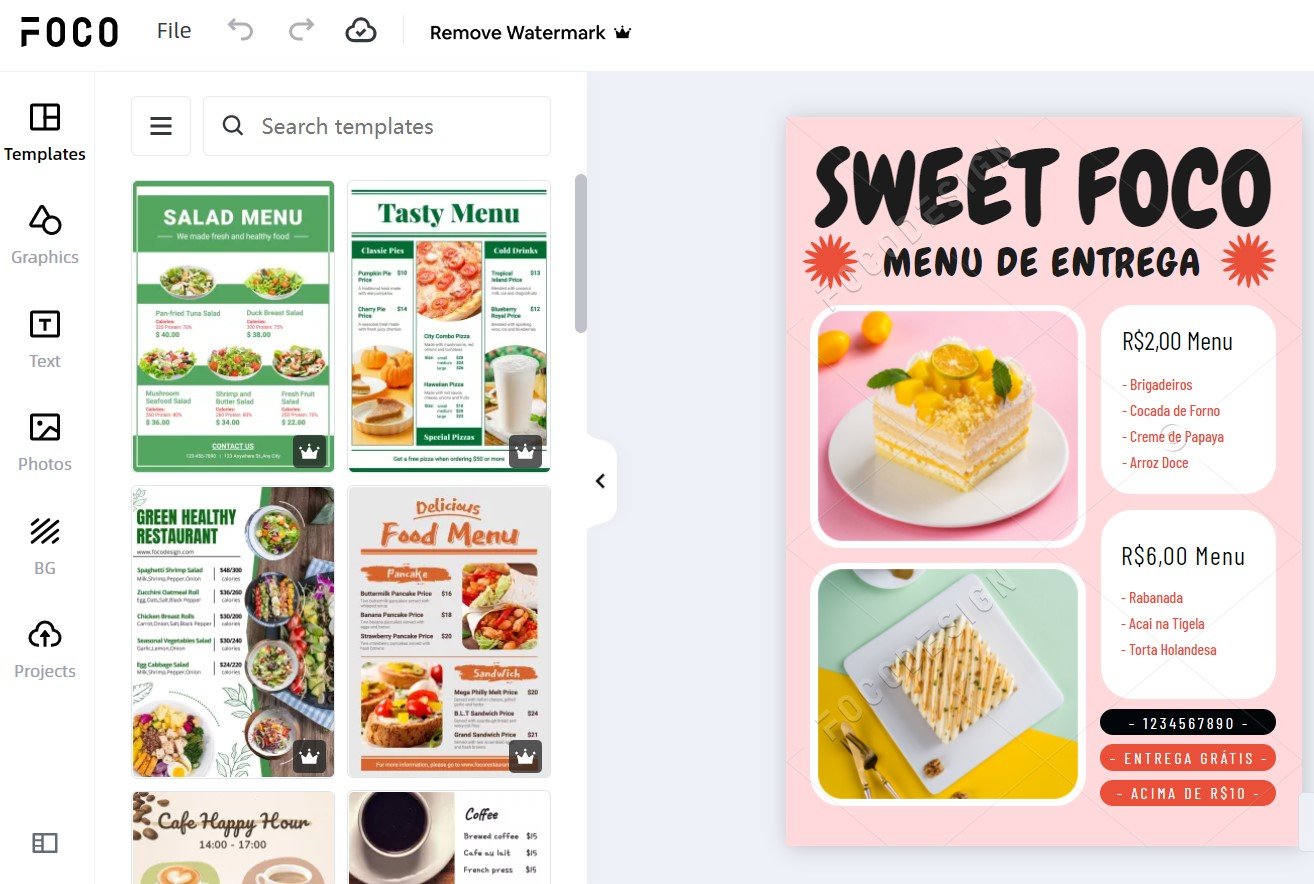 How to Make a Bakery Menu
1
Choose a bakery menu template
The online menu maker offers various types of bakery menus for every taste. Find the design that tickles your fancy. Then click "Edit".
2
Upload your photo
Upload your own photo by clicking "Replace The Image". Add an animation if you need, You can also drag to rearrange the animation order.
3
Customize your bakery menu
Make sure to prepare in advance the descriptions and prices you want to display on the bakery menu, personalize your own bakery menu to match your brand's visual identity, customize text, choose new fonts and colors to find the perfect combination of design elements.
4
Download and print your bakery menu
After making sure bakery menu designs are perfect, you can save your designs as JPG, PNG, PDF print, which can be printed and used in your bakery.
Why Choose the FocoDesign Online Bakery Menu Maker
Easy to use
A collection of ready-made templates to make your bakery menus stand out. They are so easy to use. Our bakery menu editor is packed with powerful drag-and-drop tools that anyone can use, no graphic design skills required!
All-in-one design platform
With our bakery menu maker you can search through thousands of custom templates and fully customize each one to suit your specific needs, easily change elements and customize colors, fonts and icons.
User-Friendly Interface
The FocoDesign editor is simple and intuitive for both beginners and advanced users, allowing you to quickly browse any type of online design, from social media graphic design to bakery menu maker.
Endless Design Options
Choose from a multitude of layout options, fonts, icons, shapes and images, add text, crop images, resize images, and more, the possibilities are endless.
FAQ
Q
A
How can I make a good bakery menu design?
Make sure your menu includes important item descriptions and prices, and keep the pages simple so that readers can easily navigate the design. Browse our ready-made templates to get inspired for your own bakery menu design!
Q
A
What size can I use for my bakery menus?
Bakery menu sizes will vary based on your destination, FocoDesign has many different bakery menu sizes to choose from, you can also adjust the bakery menu size by simply clicking the "Resize" button.
Q
A
Can I print my bakery menus?
Yes, you can download bakery menus and post them anywhere you want. You can also print or send by SMS, email. Just a few clicks.
Q
A
Can I use my own photos, fonts in my bakery menu design?
Of course, you can use your own elements in the bakery menu design. You can personalize your designs by uploading any photos, fonts directly in the bakery menu maker editor.
Explore more menu designs
More Designs